Our Surface Washing Service
You work hard and deserve to be proud of how your home looks. So if your driveway, sidewalk, patio, or pool deck is being plagued by mold and debris, we can help! We use state-of-the-art equipment and eco-friendly products, which allows us to clean AND sanitize outdoor surfaces. So please, give us a call at (614) 404-7456, so we can transform those dirty surfaces into bright, beautiful elements of your home.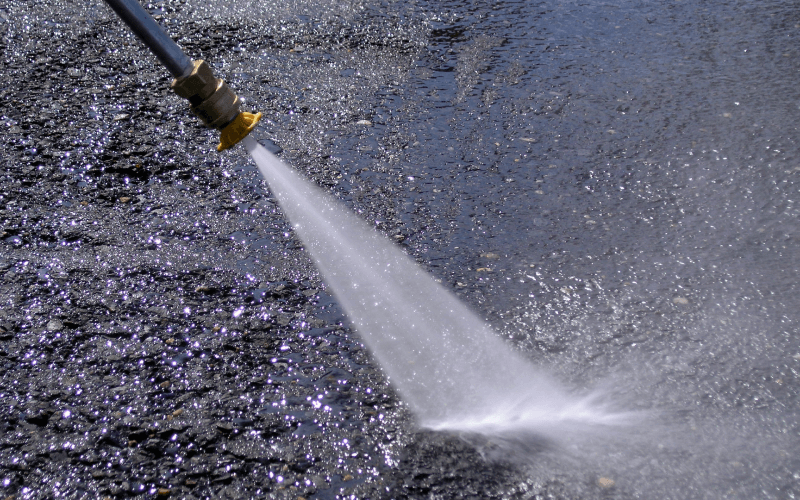 Our Unique Approach To Surface Washing
Here at BINcredible, we pride ourselves on getting the job done right the first time around. Create neighbor envy, our residential surface washing service is designed to clean AND sanitize your dirty outdoor surfaces so you can be proud of how your home looks again.
1. driveway Surface Washing
We get it… it can be hard to find the motivation to clean your dirty driveway when you know cars and feet travel across it all the time. That's where we come in. We combine hot water with biodegradable solvents to remove mold, mildew, moss, and other grime from the surface of your driveway, so you don't have to!
The truth is, not all surface washing jobs are performed the same! If you hire an inexperienced pressure washing crew, they may use too strong of a jet and erode your patio's surface. The same is true if you decide to rent a pressure washer and do it yourself. Our team will not only clean your patio, but preserve its structural integrity.
We love hosting family and friends on our deck! Unfortunately, here in Columbus, OH, dirt, debris, and slime build-up on really wood fast. Luckily, we can help. Our surface washing service ensures your wood deck looks good, so you can have guests over anytime and not worry about its appearance (or someone taking a nasty fall).
4. Playground Surface Washing
As parents, we know that our kids touch EVERYTHING! That means, everything is being touched as our kids play at the playground. We love watching our kids have fun and we want to promote a healthy play environment for them and others. 
5. Shopping Cart Surface Washing
Do you ever wonder how many other hands have touched your shopping cart before you that day or in that week? We offer surface washing clean services for all type of commercial carts for grocery stores, home improvement stores, and more!
We're passionate about helping people like you keep the outside of their homes looking emmaculate so they can spend time doing the things they love most. As such, we are proud to be the only company in Columbus, OH promising excellence in value, service, and trust.
Frequently Asked Questions
Switch To Annual and Save
Keep your trash bin clean all year long! Sign up for any pre-paid annual trash bin cleaning plan and receive 23% off of service.

Surface Washing Service
Starting at...
Price Varies
Driveway Surface Washing
Patio Surface Washing
Deck Surface Washing
Playground Surface Washing
Shopping Cart Surface Washing
★★★★★
"We called BINcredible because we had been dealing with roaches for several months and just couldn't seem to get rid of them even though we kept the house clean. Dan was quick, professional, knowledgeable, friendly, and there was FANTASTIC customer service from a man who truly cares about his customers and loves what he does because he can help people, a trait you don t often see these days."
- Tiara B. in Fairborn, OH
★★★★★
"Dan is very prompt and courteous. He called ahead to confirm the appointment. He made me feel at ease with the embarrassment and frustration of cockroaches. He was very thorough in treating our home and assuring the products are safe for our kitten. I especially appreciate the pricing and month to month treatment which includes all pest should we have a problem with anything else. Thank you."
- Mandi P. in Springfield, OH
★★★★★
"One of the most honest & ethical companies I've ever done business with. Addressed my pest/insect issue promptly and explained in detail everything he intended to do. Wasn't pushy and did not try to sell me something I didn't need. I also loved that the method of treatment was completely safe for my pet. I would not hesitate to recommend this company to anyone I know. So happy I chose BINcredible."
- Dan A. in Maineville, OH