Are you AWAY from your home and forgot to take the trash out or physically cannot take your trash out to the curb? Don't wait until the following week for your trash and the stink to pile up. Let BINcredible help. We take one trash bin and one recycle bin to the curb and return it to your home after garbage pickup. We offer this a la carte or combine it with our Trash Bin Cleaning Service.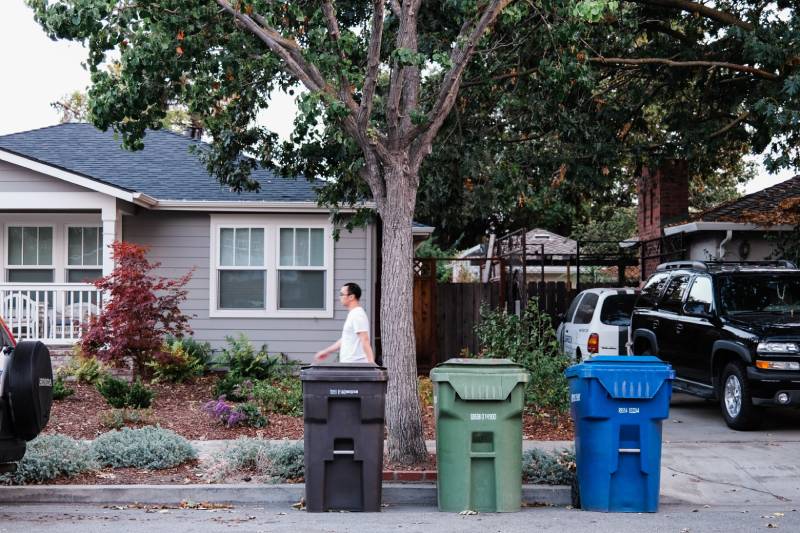 Our Approach to Taking Out the Trash
Let us take out your trash. No matter how long the driveway we'll be there to ensure your bins are curbside prior to your trash collection pick up time AND returned to your doorstep after. This fits the need for a variety of customers; for example, those with Air BNB properties, those are are physically not able to take the trash out themselves, those who travel frequently. Call us to build a plan that fits your specific frequency. 
Just leave your trash and recycle bin (2 total max) accessible the night before trash collection day . We will come the night before up until trash collection time and move your bins curbside. No more worrying about missing trash day and having to deal with that stinky trash for another week.
2. trash bin cleaning service (optional)
As an optional add-on, you could have your bins cleaned, sanitized and deodorized without even touching your can. We will also dispose of the water in an eco-friendly manner, so nothing gets left behind but a clean trash bin.
3. bring bin back to doorstep
No matter how long the drive way, we will take your bins back to your doorstep at the end of the day after trash pick up.

We're passionate about helping people like you not skip a beat in their home waste removal routine so they can spend time doing the things they love most. As such, we are proud to be the only company in
Columbus, OH
 promising excellence in value, service, and trust.
Frequently Asked Questions
Due to liability purposes, we are unable to utilize access codes for entrance into someone's garage or home.
Of course! We offer our BINaway service as frequently as weekly and as little as a one time service. We know each family's needs are different, so we have a variety of plans to fit your needs.
Switch To Annual and Save
Keep your trash bin clean all year long! Sign up for any pre-paid annual trash bin cleaning plan and receive 23% off of service.

BIN Away Service
Starting at...
We put one trash and one recycle bin curbside the day before trash day and we return your can to your door after pick up.
Note: Call (614) 404-7456 to book a one-time service!
★★★★★
"We called BINcredible because we had been dealing with roaches for several months and just couldn't seem to get rid of them even though we kept the house clean. Dan was quick, professional, knowledgeable, friendly, and there was FANTASTIC customer service from a man who truly cares about his customers and loves what he does because he can help people, a trait you don t often see these days."
- Tiara B. in Fairborn, OH
★★★★★
"Dan is very prompt and courteous. He called ahead to confirm the appointment. He made me feel at ease with the embarrassment and frustration of cockroaches. He was very thorough in treating our home and assuring the products are safe for our kitten. I especially appreciate the pricing and month to month treatment which includes all pest should we have a problem with anything else. Thank you."
- Mandi P. in Springfield, OH
★★★★★
"One of the most honest & ethical companies I've ever done business with. Addressed my pest/insect issue promptly and explained in detail everything he intended to do. Wasn't pushy and did not try to sell me something I didn't need. I also loved that the method of treatment was completely safe for my pet. I would not hesitate to recommend this company to anyone I know. So happy I chose BINcredible."
- Dan A. in Maineville, OH